An advanced adaptation of the preceding Venetian Blinds that had been the past, the  most commonly used blinds in homes, continue to be extremely popular. They are easy to maintain and present an appealing and ornamental look. The slat design facilitates the excellent control of airflow and sunlight. Providing increased privacy and insulation these blinds standout as a merging of a timeless classic with contemporary elegance. 
Customised to your desired colour and style to befit the rest of your home or workplace, they are perfect value additions. Venetian Blinds are controlled with the use of cords that are used to raise and lower the blinds while tilting the slats.
ALUMINIUM VENETIAN BLINDS
Aluminum Venetian Blinds are sturdy and affordable, suited for any living space including homes, offices and caravans, they are excellent for light, temperature and privacy control. With a beautiful metallic appearance, they are available in an array of colours to choose from. Made to last these blinds are extremely durable and hardy. This fantastic value addition to your home or office can be made in 50mm and 25mm slat sizes.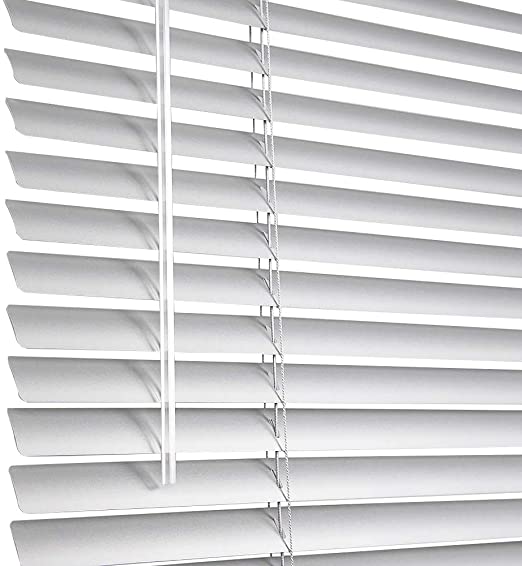 Custom made in with an assortment of colours to choose from these Basswood Timber Blinds include specialty timber grains. Providing you with the options of painted, printed or stained wood grain, it can be tailor made to suit any living space. Keeping with the highest standards and made from premium quality timber, these timber blinds are made to last. Available in white 50mm slat size, Timber Venetian Blinds are resilient and sturdy providing strength with a novel and trendy look. 
This very trendy Timber Look white PVC Venetian Blinds are highly sought after. Available with visible punched holes or hole-less designs these blinds are suitable for any home or window covering. The traditional slat model comes with the visible punched holes that supports the rope. The latest hole-less blinds are distinctively different and provides you with greater flexibility for light control. Both designs can be custom made with 50mm and 63MM slats.