This trendy and stunning window features complements your home adding character and poise. Varied in design from timeless classics to state of the art, these highly functional Roller Blinds are easy to use and maintain. Increasing in popularity due to its versatility, the blinds are perfect for any home or office. 
Available in a vast range of designer fabrics and styles, ranging from twill weave, jacquard, textured, woven, blockout colours  and Sheer Roller Blinds. The Blinds can be tailor made to suit your preference.  
All Blinds will be locally made keeping to the highest Australian standards.
Block Out Roller Binds is an ideal insulator for light and sound management. Maximizing privacy and insulation, these blinds give you the flexibility to retain heat, while blocking out any unwanted light, completely and letting in the natural light, if and when required. 
Roller Blinds are perfect for soundproofing in keeping out the unwanted and disruptive noise or containing noise within.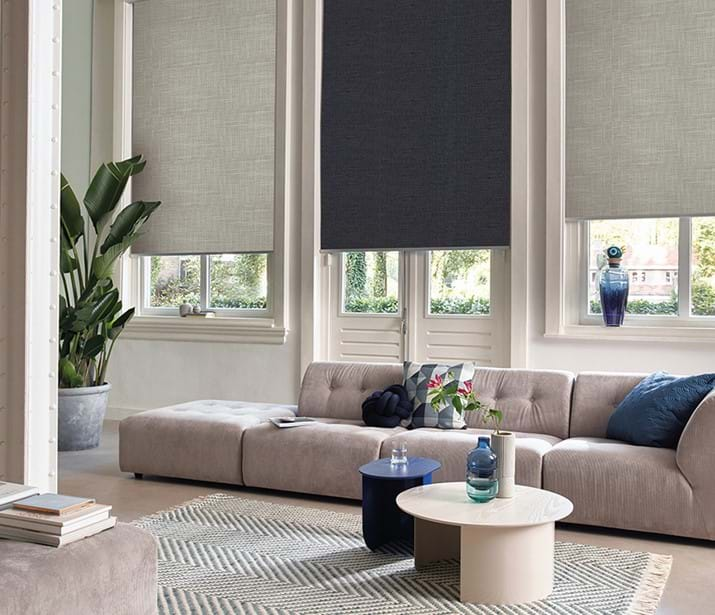 Sunscreen roller blinds provide privacy, heat control and glare reduction whilst still allowing you to enjoy plenty of light. Our sunscreen roller blinds softly filter light and provides 80-97% UV protection.
Providing you with added privacy, glare reduction and insulation management, these state of the art, contemporary window coverings not only filter light it also provides 80% to 97% UV protection. Protecting you from the harsh glare but letting in the serene light, Sunscreen Roller Blinds are the perfect value addition to your home.  
TRANSLUCENT ROLLER BLINDS
Made from translucent/ semi-transparent light flowing material and not completely blocking all light, these blinds help maintain privacy whilst relishing temperate natural light.    
These very trendy and chic Roller Blinds are the perfect choice for a contemporary look, with the combination of two fabrics on the same window, it gives you complete flexibility to shut the light out completely or partially. Using a Blockout fabric in combination with a Sheer, acts as the perfect sunscreen and privacy shield